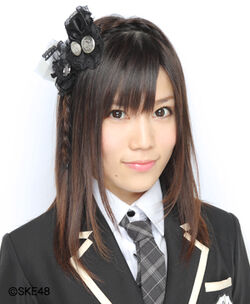 Name: Deguchi Aki (出口陽 / でうち あき)
Nickname: Pippi (ぴっぴ)
Date of Birth: 1988.03.14
Hometown: Mie
Blood Type: AB
Height:162 cm
3-Size: 82-57-84 cm
Shoe Size: 24.0 cm
Hobby: Watching ants, Digging bamboo shoots
Special Skill: Stilts, Arm wrestling
Future Dream: Singer
Favorite Food: Mayonnaise
Favorite Phrase: ありがとう (Thank you)
Agency: AKS
Generation: 1st (Originally AKB48 4th Generation)
Debut Date (Official Team Member): 2008.10.05
Current Team: Team S
AKB48 Election Rankings:
2009: -
2010: -
2011: -
AKB48 Janken Tournament Rankings:
2010: N/A
2011: -
Extra Information: Deguchi graduated from AKB on 2007.11.26 in order to continue her education. She auditioned for SKE48 in 2008 and was added to Team S.
Ad blocker interference detected!
Wikia is a free-to-use site that makes money from advertising. We have a modified experience for viewers using ad blockers

Wikia is not accessible if you've made further modifications. Remove the custom ad blocker rule(s) and the page will load as expected.