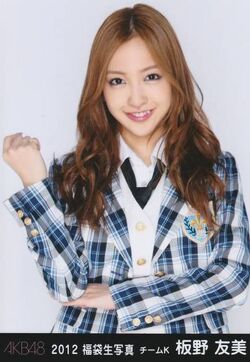 Name: Itano Tomomi (板野友美 / いたの ともみ)
Nickname: Tomochin (ともちん)
Date of Birth: 1991.07.03
Hometown: Kanagawa
Height: 154 cm
3-Size: 78-55-78 cm
Agency: Hori Pro
Generation: 1st
Debut Date: 2005.12.08
Current Team: Team K (Previously Team A)
Sub-Unit(s):
AKBIdoling!!!
Honegumi from AKB48
Nattou Angels
Queen & Elizabeth
Team Dragon from AKB48
U
Yasai Sisters
Solo Releases:
2011.01.26 - Dear J
2011.05.11 - Wanna be now
2011.06.01 - Ai ni Pierce
2011.07.13 - Fui ni
Election Rankings:
2009: 7th
2010: 4th
2011: 8th
Ad blocker interference detected!
Wikia is a free-to-use site that makes money from advertising. We have a modified experience for viewers using ad blockers

Wikia is not accessible if you've made further modifications. Remove the custom ad blocker rule(s) and the page will load as expected.