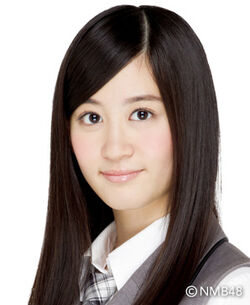 Name: Jonishi Kei (上西恵 / じょうにし けい)
Nickname: Keicchi (けいっち)
Date of Birth: 1995.03.18
Hometown: Shiga
Height: 151.5 cm
Bloodtype: A
Zodiac: Pisces
Family: Father,mother,younger brother and youger sister
Favorite artists: YUI,Abe Mao and SCANDAL
Favorite food: Chocolate mint ice cream
Favorite colors: black,white,pink and green
Favorite manga: NANA
Favorite character: Sanrio
Audition song: Shunkan Sentimental by SCANDAL
Agency: KYORAKU Yoshimoto Holdings
Generation: 1st
Debut Date (Kenkyuusei): 2011.01.01
Debut Date (Official Team Member): 2011.03.10
Current Team: Team N
Catch phrase: Hallo-chi!Let's me ask you what kind of Kei(type) you like?
A simple Kei?A rich Kei?A N700 kei(a type of Shinkansen)?
Or perhaps Jonishi Kei?
Born in Shiga Perfecture,17 yeards old
I'm Kei"Keicchi" Jonishi from Team N
Singles A-Sides Participated In:
Zetsumetsu Kurokami Shoujo
Oh My God!
Junjou U-19
Nagiichi
Virginity
Kitagawa Kenji
Election Rankings:
2009: N/A
2010: N/A
2011: -
Janken Tournament Rankings:
Funfact:
One of top 10 NMB's members
She really likes lizard toys
It seems like she likes SKE's Kuumin
She likes reptiles and bugs
Ad blocker interference detected!
Wikia is a free-to-use site that makes money from advertising. We have a modified experience for viewers using ad blockers

Wikia is not accessible if you've made further modifications. Remove the custom ad blocker rule(s) and the page will load as expected.