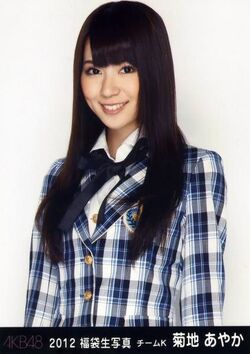 Name: Kikuchi Ayaka (菊地あやか / きくち あやりん)
Nickname: Ayarin (あやりん)
Date of Birth: 1993.06.30
Hometown: Tokyo
Height: 160 cm
3-Size: 74-58-82 cm
Agency: Production Ogi
Generation: 7th (Originally 3rd)
Debut Date: 2010.03.12 (Originally 2007.04.08)
Current Team: Team K (Previously Team B)
Sub-Unit(s):
GIRLS ING
Team YJ
Watarirouka Hashiritai
Watarirouka Hashiritai 7
Election Rankings:
Extra Information: Kikuchi was fired for having a boyfriend on 2008.08.14 after purikura photos of the two of them appeared on the internet. She auditioned again and was accepted as a 7th generation kenkyuusei. During the team shuffle announcement, she was promoted to Team K.
Ad blocker interference detected!
Wikia is a free-to-use site that makes money from advertising. We have a modified experience for viewers using ad blockers

Wikia is not accessible if you've made further modifications. Remove the custom ad blocker rule(s) and the page will load as expected.