Name:
Takahashi Minami (高橋みなみ / たかはし みなみ)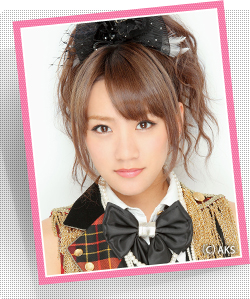 Nickname: Takamina (たかみな)
Date of Birth: 1991.04.08
Hometown: Tokyo
Height: 148.5 cm
3-Size: 74-56.5-81 cm
Bloodtype: AB
Zodiac: Aries
Agency: Production Ogi
Generation: 1st
Debut Date: 2005.12.08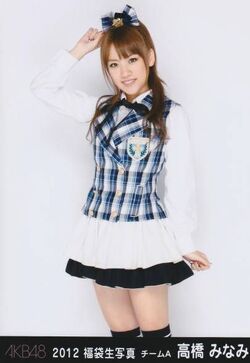 Current Team: Team A - Captain
Sub-Unit(s):
EYES
No Sleeves
Team Dragon from AKB48
Yasai Sisters
Election Rankings:
2009: 5th
2010: 6th
2011: 7th
Extra Information: In addition to being Captain of Team A, Takahashi is also considered the leader of all of AKB48 as well as its sister groups.
Ad blocker interference detected!
Wikia is a free-to-use site that makes money from advertising. We have a modified experience for viewers using ad blockers

Wikia is not accessible if you've made further modifications. Remove the custom ad blocker rule(s) and the page will load as expected.