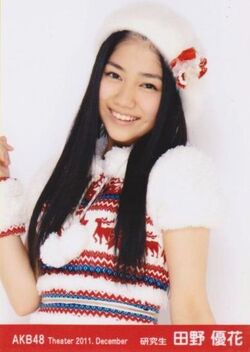 Name: Tano Yuuka (田野優花 / たの ゆうか)
Nickname: Tanochan (たのちゃん)
Date of Birth: 1997.03.07
Hometown: Tokyo
Height: 150 cm
Agency: AKS
Generation: 12th
Debut Date: - April 2011
Current Team: - Team K
Catchphrase
Edit
18歳の田野優花です。よろしくお願いします。
18-sai no Tano Yūka desu. Yoroshiku onegaishimasu.
(I'm Tano Yuka, 18-years old. I'll be in your care.)
Election Rankings
4th Senbatsu Election - #45 (Next Girls)
5th Senbatsu Election - #38 (Next Girls)
6th Senbatsu Election - #45 (Next Girls)
7th Senbatsu Election - #47 (Next Girls)
Janken Tournament Rankings:
2nd Janken Taikai - Didn't Qualify
3rd Janken Taikai - Round 3 (Lost to Shinoda Mariko)
4th Janken Taikai - #7 (Lost to Matsui Jurina)
5th Janken Taikai - Round 3 (Lost to Arai Yuki)
6th Janken Taikai - Round 1 (Lost to Tanabe Miku)
Future Profession: Musical Actress
Admired members: Miyazawa Sae
Hobby: Dancing
Favorite foods: Sweet food, crepes, and hamburger
Favorite subject: Physical education
Favorite colors: Pink, Yellow, Light Blue
Favorite characters: Hello Kitty & My Melody
Member of Cooking Club
Learned hip hop dance since 3rd grade
Is not good with Mathematics
Auditioned for AKB48 because she admired Miyazawa Sae, her senior at the dance school she attended
Known for her good relationship with Muto Tomu (TanoTomu)
Member of the ksgk ("annoying kids") Senbatsu with Kawaei Rina, Oshima Ryoka and Takahashi Juri, a popular joke between Team A members
Speciality (Shown in AKBINGO!): Pigeon's imitation
Considers herself energetic, but sometimes too noisy
Winner of the 2014 "The Wiz" Audition with Umeda Ayaka
Team History
Edit
AKB48 Kenkyuusei → Team 4 → Team A → Team K

Joined AKB48 as a Kenkyuusei on April, 2011
Promoted to Team 4 on March 23, 2012 (Saitama Super Arena)
Transferred to Team A on August 24, 2012 (Tokyo Dome Team Shuffle)
Transferred to Team K on February 24, 2014 (AKB48 Group Daisokaku Matsuri)
Ad blocker interference detected!
Wikia is a free-to-use site that makes money from advertising. We have a modified experience for viewers using ad blockers

Wikia is not accessible if you've made further modifications. Remove the custom ad blocker rule(s) and the page will load as expected.