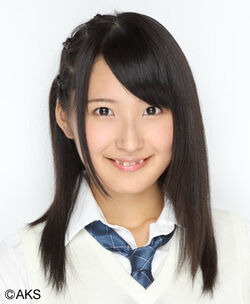 Name: Uchiyama Mikoto (内山命 / うちやま みこと)
Nickname: Mikottii (みこってぃ)
Date of Birth: 1995.11.14
Hometown: Mie
Blood Type: AB
Height: 165 cm
3-Size: 80-61-89 cm
Shoe Size: 26.0 cm
Hobby: Dance, Singing
Special Skill: Solo janken
Future Dream: Actress
Favorite Food: Chanja
Favorite Phrase: 夢は大きく、根は深く (Dreams are big, Roots are deep)
Agency: AKS
Generation: SKE 2nd Generation
Debut Date (Kenkyuusei): 2010.12.06 (Originally 2009.04.25)
Debut Date (Official Team Member): 2009.06.13
Current Team: -
Election Rankings:
Janken Tournament Rankings:
Extra information: Uchiyama was demoted from Team KII to Kenkyuusei in December 2010.
Ad blocker interference detected!
Wikia is a free-to-use site that makes money from advertising. We have a modified experience for viewers using ad blockers

Wikia is not accessible if you've made further modifications. Remove the custom ad blocker rule(s) and the page will load as expected.