Name: Watanabe Mayu (渡辺麻友 / わたなべ まゆ)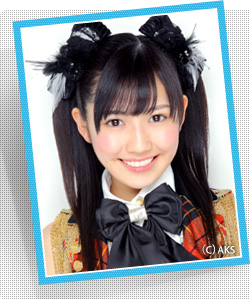 Nickname: Mayuyu (まゆゆ)
Date of Birth: 1994.03.26
Hometown: Saitama
Height: 154 cm
3-Size: 71-55-82 cm
Bloodtype: AB
Zodiac: Aries
Favorite food: Macaroon, wakame
Favorite artist: Shiina Ringo
Agency: Production Ogi
Generation: 3rd
Debut Date: 2007.04.08
Current Team: Team B
Catchphrases: I'll do my best heartfully, peacefully, beautifully and with full power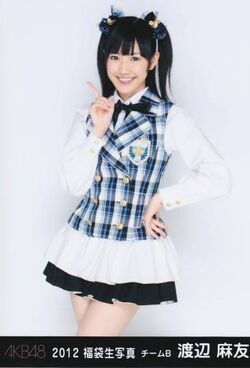 Sub-Unit(s):
Lolita Peter Pan
Okashina Sisters
Team Dragon from AKB48
Watarirouka Hashiritai
Watarirouka Hashiritai 7
Yasai Sisters
NO NAME
Solo Releases:
2012.02.29 - Synchro Tokimeki
Election Rankings:
2009: 4th
2010: 5th
2011: 5th
2012: 2nd
Janken Tournament Rankings:
Ad blocker interference detected!
Wikia is a free-to-use site that makes money from advertising. We have a modified experience for viewers using ad blockers

Wikia is not accessible if you've made further modifications. Remove the custom ad blocker rule(s) and the page will load as expected.